The 3D market is filled with amazing Blender motion graphics addons that can be very handy. As a result, we can clearly see that the software gained a noticeable place next to Cinema 4D and Houdini. If you want to know how you can learn motion graphics with C4D, we posted a great article about the subject too. You can click here to check it out.
Blender motion graphics addons can be great time savers
The aim is firstly pushing your projects towards further horizons no doubt. On the other hand, you'll see throughout this article how much valuable time you can save and invest into more creative work. Back into our topic, today we are going to talk about 11 addons that you can use to create amazing motion graphics using Blender.
11 – Audvis
AudVis is our first entry in this article's list of Blender motion graphics addons. You can use it to build interesting audio visualizations of music or any other sound. To clarify, its main features are a Real-Time Analyzer and a Sequence Analyzer.
You can use the Real-Time Analyzer to make animations reacting to music (or any other sound) going over the sound card or from the microphone. 
Above all, the sequence analyzer feature is mainly focused on making music videos. By synchronizing the Audio and the visuals together so you can have a visual representation of the audio you hear.
This addon is available on the Blender market for $10.
https://blendermarket.com/creators/example-sk?ref=247
10 – Text FX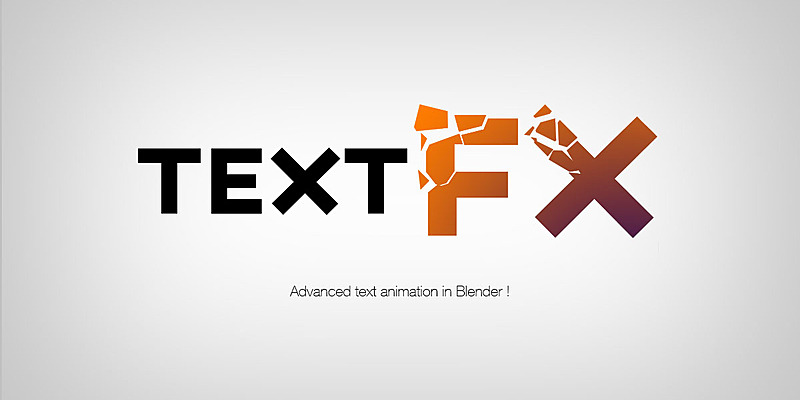 Text Effects allows you to build complex font animation without math or keyframes. Actually, this is one of the simplest Blender motion graphics addons both in concept and in its use.
All you need is to apply the effect that you see appropriate for the situation to the text. Which can be combined in a variety of styles and settings after that to get the animation done.
There are different types of animation you can apply. Like converting selected text or paragraph (sometime with multiple lines) to an animation for instance. In addition to transformations such as rotation and scaling, also random transformations like Wiggle effects.
You can download this addon on the Blender market for $26.
https://blendermarket.com/products/ik-text-effects?ref=247
9 – Circular Array
Blender is able to create radial or circular arrays with an Array modifier and some helper objects and drivers.
But this addon will set up everything for you in one click and manage all the dependencies and hierarchy behind the scene. It also adds some functionality, but that's not the main aim. The ultimate function of this addon is to be a TIMESAVER. Which is most importantly the case for most Blender motion graphics addons and any other similar tool.
So if you want to create some arrays and animate them this addon will help you do that. It's available on the Blender Market for $6, you can also download it from GitHub for free as well.
https://blendermarket.com/products/circular-array?ref=247
8 – Bchart
Bchart is an addon that you can use to show your data in simple and animated charts.
To start using this addon you can Import .csv data into Blender and create or remove charts. Data can change over time, so you can refresh it at any time directly from the addon interface, without losing any settings.
Bchart gives you a lot of control because you can Tweak more than 30 parameters to create the best looking chart that suits your needs. And the good thing is the animation is easily controlled using those parameters.
you can find this addon on the Blender Market for $25.
https://blendermarket.com/products/bchart?ref=247
7 – AssemblMe
AssemblMe is an add-on for Blender that makes layer-by-layer animation efficient and non-destructive. Blender offers excellent physics and particle simulation tools, but when you've got a final resting place for the objects, it is usually done by keyframing each object individually.
AssemblMe provides an intuitive and efficient workflow for creating (and adjusting) assembly and disassembly animations in a short period of time.
Motion graphics and logo design with multiple objects in Blender is also possible to do with AssemblMe. Simply add all of the objects to a group, adjust the parameters and create the animation for an assembly motion graphics in a short period of time. But the Animation is currently limited to straight lines from the starting position to the final resting position. However, it doesn't change the fact that its a valuable entry in the Blender motion graphics addons list.
You can find this Addon on the Blender market place for $15.
https://blendermarket.com/products/assemblme?ref=247
6 – Gravity Rope
Gravity Rope is a simulation tool made for Blender artists and motion designers. It's a user-friendly add-on that allows you to create ropes and to simulate different materials easily.
This is add-on comes with several modes, several materials presets, and a lot of creative possibilities. It introduces a new and complete workflow that allows you to carry out several advanced rope animations. Those on the other hand can be nicely integrated with a motion design project that needs these types of effects. It supports the collision of ropes and pendulums, it also reacts to the wind and it's even breakable which is a nice feature. It's certainly the utility that confronted our choice of listing it among the Blender motion graphics addons.
You can find this addon on the Blender market for $26 if you are going to use it for freelance or personal work. And there is a professional version for studios at $65.
https://blendermarket.com/products/gravity-rope?ref=247
5 – Sverchok
This is a powerful parametric tool for Blender motion graphics users, it allows geometry to be programmed visually with nodes. Mesh and geometry programming consists of combining basic elements such as curves, surfaces, and solids.
If you are familiar with Houdini, Rhinoceros3D, Dynamo, or other modular systems you will feel at home using this addon.
Sverchok is good for generating and visualizing geometry. It's at its core parametric, and almost everything can be driven by a slider. in addition to that, it allows for rapid prototyping of algorithms through nodes or scripted nodes.
Most importantly, this is one of the best Blender motion graphics addons that are free, and you can download it on Github.
4 – Particles Link
Particles Link is a tool that allows you to create awesome particle effects. This add-on makes it easy to connect a bunch of particles. It can also be used as a curve generator and particles tracer. 
There are unlimited things that can be done using this tool, especially in motion graphics. Your imagination is the limit.
Particles link operates using two graph modes which can be a network or multiple lines connection. The good thing about this addon is its ability to connect particles live and give feedback as you work on something. Also, it is possible to use Multiple particles system.
You can find the Particles link addon on the Blender market for $26.50
https://blendermarket.com/products/ik-particles-link?ref=247
3 – Commotion
Commotion is a Blender addon specifically created for motion graphics. It can be used to create Offset animation for multiple objects using different sorting methods.
It works both with F-Curves and NLA strips. And you even copy and link animations between objects. To have more control over the motion, Proximity Effector lets you change object properties by distance to other objects. In addition to the ability of Easily managing properties of absolute shape keys.
By the way, you can download the Commotion addon for free on Github.
https://github.com/mrachinskiy/commotion
2 – Animax
ANIMAX is a procedural animation system for Blender. Useful for animating multiple objects. It allows you to create complex animations that are hard to achieve using Blender's built-in animation tools.
There are Tools for splitting/shattering a mesh object into pieces. Convert the procedural animation to keyframes. To clarify, the animation is procedural, but it's possible to keyframe a lot of parameters for more complex animations.
Using this addon you can create some interesting animation effects like making objects dissolve, explode or transition from one object to another. Which I think is great for certain types of animation work, probably the first application for Animax that comes to mind is motion graphics work. In other words, there's probably no chance this addon won't make it to the best Blender motion graphics addons list.
If you are a motion graphics artist, then ANIMAX will help to a certain extent. Because it is a nice addition since it can do these types of effects fast.
The workflow is straightforward, just choose an effect (or make your own). Play with the parameters, and the timing, and you will have the animation ready.
You can download this Addon on the Blender market for $25.
https://blendermarket.com/products/animax—procedural-animation-system-?ref=247
1 – Animation Nodes
The Animation Nodes addon hands down the best addon for motion graphics in Blender. It is a node-based visual scripting system designed for motion graphics in Blender. The main goal behind it is that users have a very customizable and extendable node framework. You can use it as a powerful driver alternative, text manipulator, animation replicator, and much more.
Compared to the other addons on this list probably Animation nodes is the most complicated. Because it is the most advanced and allows you to created professional motion graphics using Blender.
Probably the easiest way to get a grasp of it is to look for examples and replicate them. That will make it easier to follow tutorials and makes everything less overwhelming.
Actually, the developers created a website in which you will find a detailed manual that includes all the necessary details about what this addon can do. In addition to the way you can use it, which is a great starting point if you have little experience.
And the best thing is you can download this fantastic addon for free no questions asked. You can do this for free on Github.