Today's market is highly competitive, making it hefty to build a unique and catchy brand that stands out. You can make your business go viral worldwide if you manage to use the visual identity to your advantage.
Graphic design will be the answer to this specific matter, but it's undeniably a long path to go through. It might even be an expensive one since graphic services are too crucial to be financially accessible. So to make it easier as you start, you can use mobile applications: they're not needy in terms of resources or hardware, they're light and easy to use.
However, as iOS users (iPhone, iPad and such), you might be wondering of the availability of such tools. After all, the market share of mobile operating systems (as of February 2022) is of 70.97% for Android versus 28.27% for iOS. So you might be thinking: are there enough logo design apps for iPhone and iPad users compared to the Android logo design apps?
Is there a lack of logo design apps for iPhone and iPad?
Although the number of iOS mobile users is significantly less that its Android counterpart, there's a good amount of them for all kinds of purposes. We posted about many useful tools for iOS users, especially those who belong to the design atmosphere:
For the sake of comparison, you can also check our extensives lists dedicated for Android users: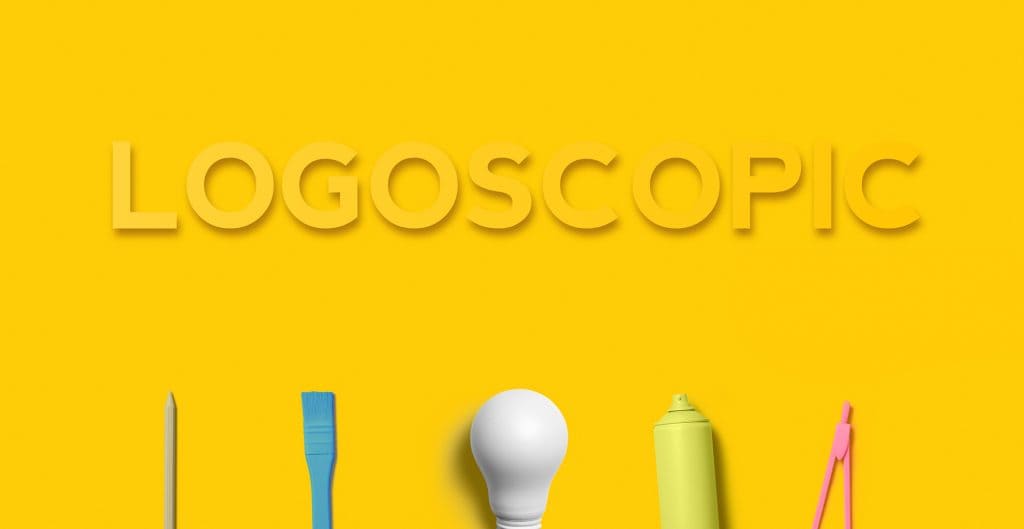 LogoScopic is a free logo design app for iPhone and Ipad alike, developed by RoadRocks a also available for Android. The app is for creating logos in a matter of a few minutes: it allows you to create high-quality logos simply and quickly with minimal effort. It doesn't display any ads, offering you a clean UI with no distractions. Which makes it perfect for beginners and small business owners.
The app is equipped with powerful tools and it has various assets and aesthetic icons. It comes with around 900 customizable templates that you can browse through to choose the right elements for your logo design. You can edit the colours using the RGB sliders, not to mention that you can add external images and photos from your camera folders.
You can also add backgrounds and text, having full control over text spacing and height. In addition to multiple fonts: more than 200 of them are available to pick from and integrate into your design. LogoScopic has no drawing support and that makes it very beginner-friendly. It has several categories to organise the assets. You can choose graphics from Iconic, Pro, Art, Lifestyle, Fashion and People categories.
The logo creation process is simple: you'll start by picking graphic elements according to the general vision of your business. You can add your brand's name, edit the text, background and colors. Once you're done with your design, you can share it as an email attachment.
If you want more advanced features, you can purchase the premium version for 5 dollars and benefit from additional choices.
Sketch is one of the Best Logo Design iOS Apps, a free drawing and design. It's suitable for logo creation, allowing you to design creative logos with a simple and intuitive user interface. Not to mention that it's perfect for beginners since it's easy to use even without any prior design skills.
Either using your fingers or a stylus, you'll be able to draw your visuals from scratch. It gives you complete freedom and control over your design to unleash all your creativity.
The app has also a text editor that comes in beautiful fonts, giving you even more rich elements to include in your logo. In addition to many other visual options like colours, backgrounds, strokes and a wide range of icons as well.
Makr is a free app available on the App Store for logo design purposes launched by Happy Media. It's such a popular app for iOS powered devices: iPad and iPhone. And it even extends its multi-purpose nature far beyond logo design.
Makr is for non-designers, it simplifies the designing process so you can express your creativity without any technical barriers. It's equipped with advanced tools in addition to a wide variety of beautiful templates to choose from, which are customizable to fit your needs. You can change the text, icons, styles, colours and even the chosen template itself. And to make browsing through them easier, the templates are divided into categories like Business, Monograms, Campus Life, Events & Activities, Sports and so on.
However, if you prefer starting fresh you can open a blank canvas since the app allows you to upload and work with your graphics such as images, shapes and text.
With Makr, you can also share your designs on social media directly. Not to mention that you can download your logo as a PNG file for 7 dollars per design.
DesignMantic is a free logo generation app developed by Right Solution. It's very effective and easy to use; which makes it perfect for non-designers and beginners.
It's based on the concept of generating multiple combinations of graphic elements that you selected, in addition to your field of activity for more accuracy. After that, you get to choose from these matches the one that better fits your brand. You can also adjust different elements in your design to get the final cut, like colours and fonts.
Moreover, DesignMantic comes with thousands of icons, various styles of elements and templates. Not to mention that the app allows you to save and download your final design in many formats, like JPEG, PNG or PDF.
Logo Maker Shop is another logo glayeringtion app that is super easy to use with its intuitive UI. It offers you more than a thousand logo templates, 200 fonts, two thousand symbols and icons. All these stunning graphic assets are divided into categories to make browsing through them easier. It's not meant to corner your creativity, because you can open a blank canvas and start your design from scratch. However, the templates are modern and aesthetic, so they will come in very handy especially if you're a beginner: it will save you a lot of time and effort above meeting your expectations.
The app's workflow is based on a layering system that allows you to fully edit the elements separately; from editing opacity, brightness or saturation, helping you narrow the risk of making mistakes to a minimal rate.
Once you reach the final phase of your logo design, you can save it or download it as a JPEG file.
The app is free to use, but you can benefit from premium features for 10 dollars: such as additional items library and the high-resolution PNG download format.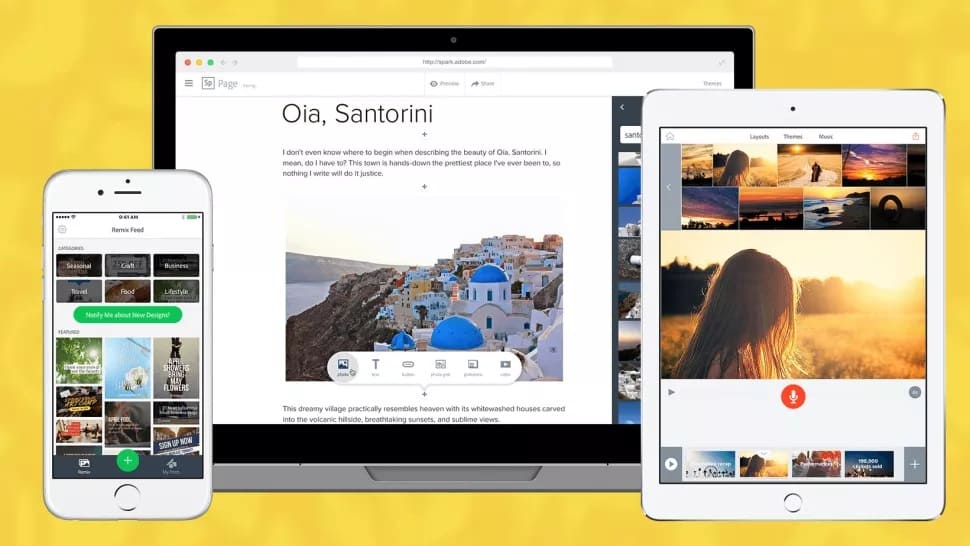 Adobe Spark is a graphic design tool from the Adobe Suite compatible with iOS and Mac OS. It allows you to create an eye-catching logo in a few minutes, whether it be a wordmark, letter mark or pictographic logo.
This app is quite easy to get a grip of: it simplifies the logo design process to make it very beginner-friendly.
It comes with a wide variety of professional fonts, various layouts, colour pallets, lots of images and graphic elements. Not to mention that it allows you to import your images from different platforms like Dropbox, Google Photos and so on. Adobe Spark also offers you many effects and filters, in addition to texture and transparency options.
You can use Adobe Spark the way it suits you best: either by uploading your graphic elements into the workspace or by choosing one of the customizable templates. With the various and powerful editing options, your design will result in clean and modern logos. Not to mention the saving and sharing options that help you store and synchronize your workflow with your other devices or with the cloud storage.
ICONA is a minimalist logo creation app compatible with iOS devices. It comes with a very intuitive UI and offers you thousands of customizable designs to choose from.
The app provides you with a powerful set of tools, allowing you to perform all the necessary edits as you please. We can mention for example the fill parameters, gradients, strokes with colouring, opacity, alignments, snapping grids and more.
The design process starts with a new canvas and choosing a set of shapes from the library. You can add text to emphasize your brand and edit it to enhance the visual identity. You can even use the drawing tools if you prefer creating your logo from scratch. Or if you would like to sketch your ideas as a primary brainstorming phase.
ICONA is a paid tool though: you'll have to purchase it to benefit from its awesome design options and to download your final logos.
ArtStudio is a free graphic design app for iOS devices, and recently available for Android too. It's a wonderful app for drawing, photo editing and even sketching. It's quite simple to use with its intuitive UI, enhancing the creative process on the go.
ArtStudio offers you more than 150 different brushes, in addition to more than 40 filters that produce outstanding and surreal results. The app also comes with other advantages like drawing tools and the layer system.
Affinity is a raster and vector graphic design app, one of the Best Logo Design iOS Apps , especially since it succeeded at putting the Apple Design Award on its shelf.
Affinity got the recognition of many designers and developers around the world. Besides the graphic advantages, it allows you to create 3D models. It's quite accessible with an effective interface, making it easier for the user to quickly get familiar with it.
The powerful and various tools will help you create awesome designs with high accuracy. Not to mention that the app comes in multiple languages to make it even more accessible.
Final Thoughts
So that's about it! We have listed some of the best apps for iOS devices to help you discover and choose your next favourite tool.
But still, the most effective way to know if a piece of software or an app is suited to your needs is by trying it. You'll find the one that enhances your creative journey.