Animation has become a big industry, much akin to an ancient tree from which many many branches grew; we have motion graphics, frame by frame animation, puppet animation, 2D animation, 3D animation and so many more.
By extension the software with which animation is made are many, paid and free, complex and simple, focused and all encompassing. In today's post we will explore two of animation's most popular software and compare them, without further ado let us explore Toon Boom Harmony vs After Effects, two software that are considered the industry-standard in their respective domains.
Toon Boom Harmony vs After Effects Overview
Let's start off simple by learning about the two software in a general light.
Toon Boom Harmony
Developed by Corus Entertainment, Toon Boom Harmony is a 2D animation software with a main focus on puppet, frame by frame and traditional animation. The software is available on both Windows and Mac.
The price for the software depends on which version you are going for. The Essentials version costs 25.50 USD a month. The Advanced version costs 64.50 USD a month, and the Premium version costs 117.50 USD a month. The price point differs due to the difference of tools and features in each version.
Toon Boom Harmony is the industry standard among the 2D puppet and frame by frame and animation software, and is used by the likes of Disney, NBC, Ubisoft and DreamWorks. If you are into the animation industry you have probably heard of Toon Boom Harmony or have used it.
After Effects
After Effects is a digital art software developed by Adobe Inc. The software is mainly used for visual effects, compositing, animation, and motion graphics.
After Effects is available on both Windows and MacOs.
The cost of  After Effects depends on your purchase plan; $52.99 USD a month if purchased as a part of Creative Cloud that includes all the software Adobe offers, such as Photoshop and Adobe Animate, and $20.99 USD a month if After Effects is purchased stand-alone.
The software is a leader in the motion graphics and visual effects industry. If this software intrigues you and you wish to take a deep dive in its history, you are in luck! Feel free to check out our post The History of After Effects for more information about how this software was created. 
Anyways, Let's move on to the good stuff!
Tools and Workflow
With the basics of each of the software out of the way, let us now take a look at the tools and features the two software provide.
Toon Boom Harmony
Harmony is equipped with great features, a user friendly customizable interface and a wide variety of tools for animators. The software's tools include but are not limited to deformation tools, morphing, inverse kinematics, particles, built-in compositor, 3D camera and 2D-3D integration.
The software is more than capable of helping you make a traditional or digital 2D animation from start to finish. The software can work with either raster or Vector.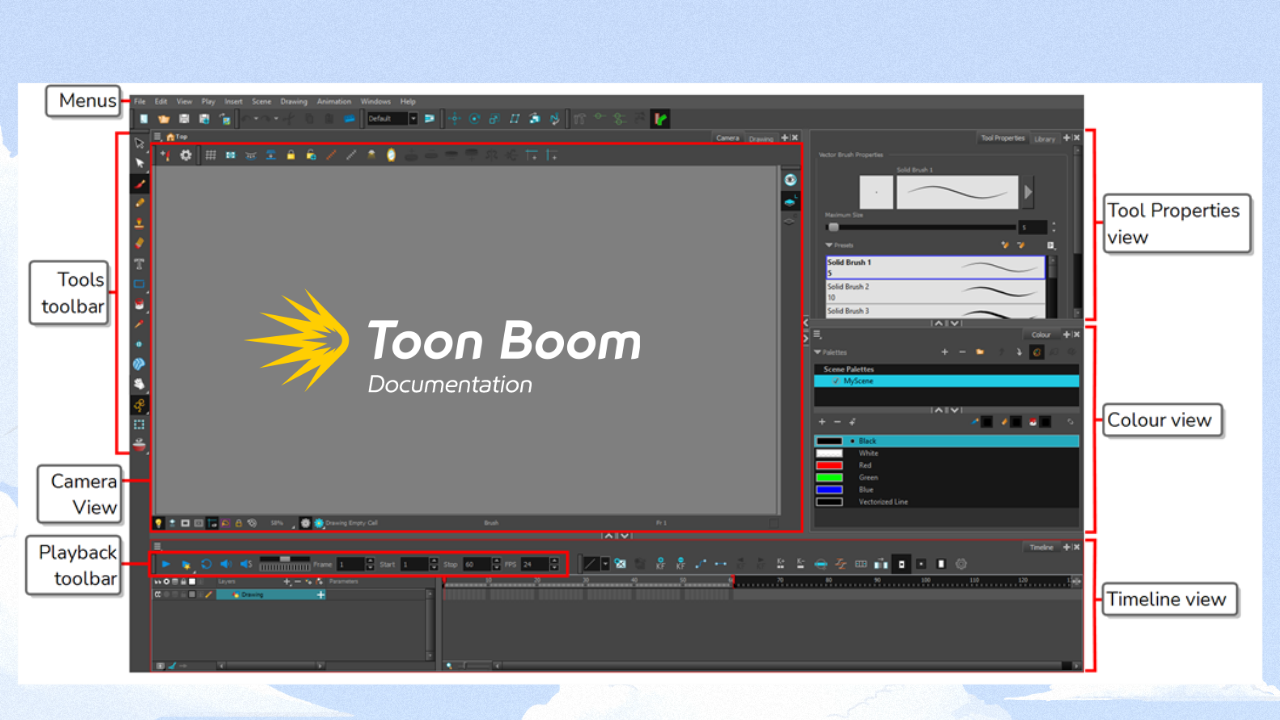 It also provides alignment guides and snapping. Another great tool is the stabilizer. This tool can make lining your frames a lot easier, especially if you are importing your frames sketched traditionally but want a digital clean line art.
Another very powerful and smart tool in the software is the cutter tool which allows you to cut bits of lineart sticking out that are unnecessary, talk about a quick clean up!
The 3D space and camera can be a genius way to give the illusion that your scene is animated when it is just layered in a 3D space and the camera's movement makes it so that it looks like it's moving. This can be a great tool if you are creating a video game and wish to have parallax in your background for a livelier look for less effort.
Other tools and features include X sheet, shift and trace, onion skinning and range, color swatches, lip sync, importing 3D objects. These tools are very powerful, and it makes sense that this software is the industry's standard for 2D animation.
It goes without saying that we have only grazed the surface of this behemoth of a software and that its tools are more plentiful than we could include in this video. 
After Effects
After Effects is designed in a sophisticated and user friendly interface. The software has a variety of tools, for instance you have your shape tool, pen tool, mask tool, camera, precomps and a variety of blending modes such as overlay, dissolve and difference, shape layers, nesting compositions and precomposing, adjustment layer, track mattes, pick whip, null layers, cameras, graph editor and so many other tools and features.
The software leans a lot more into the creation of visual effects and motion graphics for films and generally video media. This doesn't mean that the software is not able to create 2D animation similar to that created in Toon Boom Harmony, however you won't find the same powerful tool that makes the process easier.
Too long, didn't quite grasp it? If you want a software that does motion graphics and visual effects first and frame by frame animation second After Effect is for you. If the other way around, Toon Boom Harmony might be what you're looking for. This could be the case for graphic designers who work mainly using video and motion graphic assets and would like to have a little bit of hand drawn animation used in their work. 
Learning curve
Both After Effects and Toon Boom Harmony are equipped to the brim with a variety of tools and features as explored above.
This is great as you wouldn't need to switch between software just for that one tool, however this means that they have a steep learning curve.
The sheer power of these two software doesn't allow them to be simplistic, although it is important to know that they are both designed in an intuitive and user friendly way. They'll still take you quite the time to learn, but of course for good reason.
Thankfully the community around these software is great, there are plenty of YouTube videos that will help you get well acquainted with the software. And especially since these two software are quite well known, loved and at the top in their respective industries, you'll be sure to find the help you need.
Pros and cons
Okay, so what is the catch with these software. Let's get into it!
Toon Boom Harmony
Simply put, Toon Boom Harmony is a great 2D animation software, it is equipped with everything you need to animate and then some. It is the industry standard, some high end animation courses are even based on the software.
For example there's professional training at CGSpectrum provided by mentors and trainers that were certified by the Toon Boom company itself! It's a really good place to go if you're aiming to land a job in the industry. If you're interested in pursuing a professional path in animation you will not go wrong with Toon Boom Harmony.
Here's the catch though, although it is designed as intuitively as possible for such a tool and feature rich software, it can have quite the steep learning curve. It is also a little expensive, no actually scratch that it is really expensive. However there are multiple versions you can choose from that are a lot more affordable. 
After Effects
Adobe's After Effects is way cheaper than Toon Boom Harmony, especially since you will be getting all the tools in the software and you can get Adobe After Effect bundled with a variety of other high end software for a lot less than Toon Boom Harmony's Premium price.
That said After Effects is not specialized in 2d frame by frame animation and veers a lot into the motion graphic and visual effects side of things. Adobe After Effects definitely has a steep learning curve, but if you are already familiar with its family members, Photoshop and friends, you might be a lot less confused and overwhelmed using the software.
There's also various online courses that can help you get a good grip of it, like the Domestika course that we took here at InspirationTuts, by Klarens Malluta. The link will be in the description box below.
Final Verdict
Let's put this simply, if you have a focus on a traditional, frame by frame digital animation (Or traditional but processed digitally) Toon Boom Harmony is your guy.
If you want to be a professional in the long run, using Toon Boom Harmony and getting used to it can be a great plus for you as it is what is commonly used in the industry.
After Effects is for those of you who have a film, marketing and generally a video media focus, where the main star is videos, films and motion graphics with a sprinkle of frame by frame animation. It can do frame by frame animation, but let it be known that it is not the software's strongest suit. 
Conclusion
This is it, we have reached the end of our video, we hope our comparisons of After Effects and Toon Boom Harmony was helpful for you and taught you something new today. Do you use any of the software? What is your favorite tool in each of them? Make sure to let us know in the comments. With that being said, we hope to see you in our next video! Bye!