Adobe Animate was and still is one of the most famous animation software ever since its creation in 1996. As it was formerly known as Adobe Flash. 
If you're familiar with web development and its animation effects, you may remember the days where flash used to be the leading software in web graphics. And it died in2020 since it was classified as "obsolete" and ceased to be updated. Adobe Animate however is becoming more and more powerful, and it has a constantly growing community of users. So, Is Adobe Animate good for beginners?
If you're a beginner in animation and you have a rough idea about the basics you will find Animate a very interesting software to work with. And since it is an Adobe product you will spend an easier time learning it especially if you are familiar with their other software such as Photoshop, illustrator, and after-effects.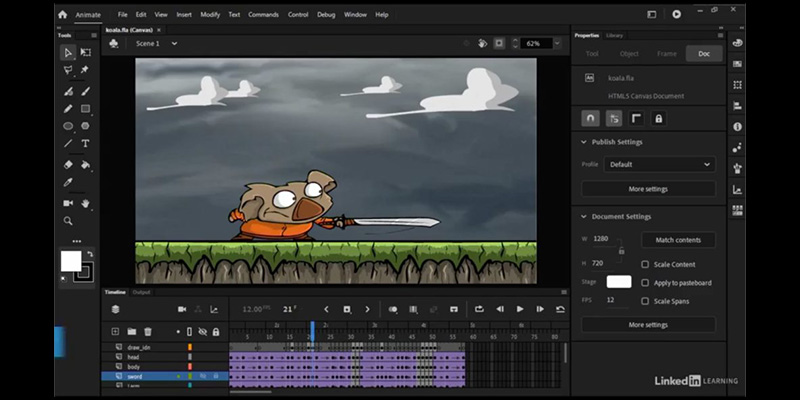 With Animate it doesn't take long to pick up the basics but you need the necessary training to be able to more advanced and complex animations but the good news is there are a lot of free tutorials and paid courses that can help you do that.
To answer your question: Is Adobe Animate good for beginners? we brought to you here some of Adobe Animate features that suit your needs and help you work on your animation projects.
Frame by Frame Animation and Onion-Skinning 
Adobe Animate is known to be beginner-friendly and easy to use because it offers you the tools to animate frame by frame.
The process is quite fluid and neat thanks to the great variety of drawing tools, which are built specifically to enhance the frame-by-frame animation. You can animate in a very simple way by selecting keyframes and moving your characters and objects the way you wish.
Enabling the onion-skin visual mode helps you get an overview of the previous keyframes, and make your animation natural and well-paced. 
The timeline is modern and highly intuitive, in a way that you can control the entire scene by adding, cutting, and replacing frames to the details of milliseconds.
Multiple Scene Support and Graphical Keyframe Picker
Unlike many other animation software like Moho and Pencil 2D, Adobe Animate gives you the possibility to create and render multiple scenes in a single project at the same time. It might seem useless as a feature, but it's a tremendous bonus for beginners who would like to organize their workflow by making short scenes.
The project becomes well organized and easy to update, reuse, and export as a single animated file simultaneously. Not to mention that your workflow will come in fast and fluid thanks to the graphical frame picker tool. It allows you to browse different elements of your scene visually without having to go through the keyframes one by one.
Animation with Symbols and Layer-Parenting
The best way to illustrate this powerful feature is by taking character rigging as a demonstration example. Adobe Animate is built to help you organize your characters by independent layers or groups of layers as symbols. You can effectively store these in the library and simply refer to them on the timeline of your screen, rather than drawing the same component over and over again throughout the entire scenario. In addition to that, the layer parenting feature allows you to set up a skeleton or a bone structure for your puppets.
This will help you animate your character according to different joints as if you're manipulating bones in motion. The whole process of animation is beginner-friendly and it saves a lot of time on top of that: you can reuse the symbols in your library as many times as you like with a simple drag-and-drop action into your workspace.
Built-in Camera Tool and Action-Script Support
It's true that Adobe Animate is a 2D software that has no third dimension, which means that you can't alter the depth of your animation. But the power of this software is in the integrated camera tool that is very easy to use and master if you're a beginner. Other software like Toon Boom Harmony and Moho Pro gives you the possibility to add a 3D appearance to your animation, but the hybrid type of projects can be quite tedious and complicated for newbies.
The camera of Adobe Animate helps you zoom in, zoom out, or move the camera around for a rich and realistic animation process, but without all the complications of a 3rd dimension. You can easily achieve a natural 2D animation by organizing your layers well, making a suitable background, and adjusting the camera over your scene. 
In addition to that, the Creative Cloud of the Adobe family has other software that can add to your animation where Adobe Animate lacks features.
The other good feature of this software is a bonus for people who are familiar with algorithms and programming languages. It's called "Action-Script" and it's basically a programming language that merged both animation and code. So if you're a complete beginner at Adobe Animate and you have some skills with programming, Adobe Animate allows you to leverage this potential into creating amazing scenes.
Pricing & System Requirements
The first good news for any beginner who wants to dive into the world of animation is the system requirement of Adobe Animate. It's software that isn't very demanding: a Pentium processing unit, 2GB of RAM and 4 GB of disk space are enough to run Adobe Animate on your computer of graphic tab fluidly and efficiently. The second good news is that you can benefit from a 30 days free trial to test the software before you subscribe to a paid plan. You can get the full stand-alone package for 20$/month, in addition to the other Creative Cloud software to take your production to the next level.
https://www.adobe.com/mena_en/creativecloud/plans.html?filter=video-audio&plan=individual