Today we are going to talk about a great Blender addon for cloth simulation known as Simply Cloth. With this addon, you can create cloths faster and easier than before. Because it offers tools and features that can help you generate results similar to what we can do using specialized cloth design software.
The good thing is that you don't need a lot of previous knowledge with the Cloth physics settings inside Blender. Because everything is simplified and made very clear using simple settings in the addon's interface! And for those who don't have experience making cloth, you can simply select one asset and one of the available presets and quickly adjust them according to your needs.
Your project becomes velvet-smooth with this Blender addon for cloth
The presets include different cloth making materials. Like cotton, denim, leather, rubber, silk, wool, elastic cloth, cloth with pressure, paper, and so on. There is also a library of ready to use cloths like female underwear, bras, female shorts, male shorts, skirts, swimsuits, different kinds of dresses, different types of shirts, in addition to accessories like a mask, cap, belt, and so on.
This addon has many great features that will help you make the process of creating clothes enjoyable and much easier. For example, you can merge two pieces of cloth together after sewing them. As a result you will get two perfectly connected pieces that will look like one without seeing anything unnatural or weird.
The strengthen feature will allow you to strengthen the cloth and it will look more realistic and believable than ever. You can increase the strength intensity in addition to other settings to see different results.
Also, sometimes some clothes or furniture need pressure like some jackets, sofas or pillows. And this is where Simply Cloth comes in to make things easier because it will give you a high degree of freedom and control over how you want the result to be. Using vertex selection when choosing what areas you are going to apply pressure to. Or even better: using live paint tools that allow you to paint, to choose what are areas are going to be affected and areas are not. In addition to that, you can pin certain points or straight lines that will help to create certain effects and dividing the cloth into separate areas that we applied pressure to.
Tools and features that give you full control over the process
This Blender addon for cloth comes with a pin layer system that works even when the simulation is happening using the same painting method that we talked about. So this allows you to pin certain parts of the cloth as it is moving and as the simulation is happening.
You can also create a hook from which the piece of cloth will hang. This can come in very handy when it comes to simulating simple pieces of cloth. But you can get creative and use it to generate certain effects you can't get otherwise.
If you were to create clothes for a character you can start with a shirt or a sweater (that you can modify by the way) before starting the simulation from edit mode that we use to edit polygons. And you can change properties of the human body that is going to interact with those clothes. These include pressure and thickness, and they are very important to be able to get the clothes to fit properly and stick.
A few things you can do as you see your clothes coming together is to choose the right type of fabric and other parameters. Such as quality steps, collision quality, shrink value, weight, stiffness, wrinkles, folds, and so on. So the Simply Cloth addon is not short of tools and settings that can help you get the perfect look you are after. Because it is just a matter of trial and error until you get it right.
Another thing about this addon is that it allows you to sculpt cloth using different brushes that can do different things. Such as drag, push, inflate, pinch, expand, grab, mask, and so on.
In other words, you can use these brushes to move part of the cloth to a certain position or pinch it to look more realistic and believable. Because even though the initial simulation is good, you will need these types of brushes in order to be able to get a custom result that you are looking after. Not to mention that the power of this Blender addon for cloth is making it look more natural based on our experience in the real world as human beings. To clarify, when something does not feel right we can still control it manually using these brushes.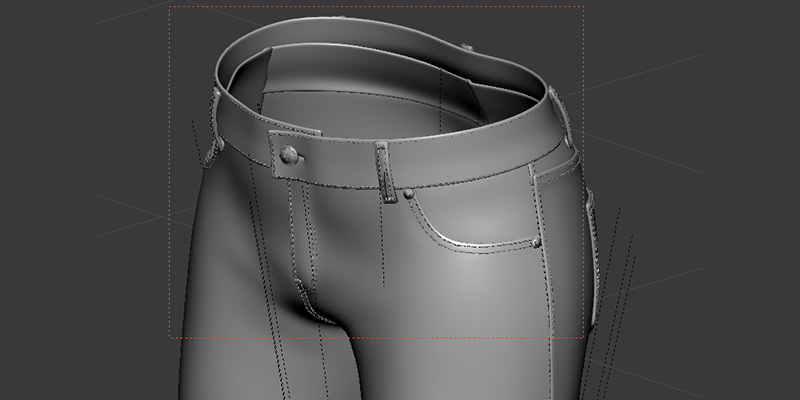 How to extend the power of Simply Cloth and where to get it?
Not enough features to "wow" you yet? Hold your breath, there's more! We can also add other pieces of cloth on top of each other and go through the same process using the same tools and settings to get a better result. And in order to be able to make two pieces of clothes come together we need to use the brushes to avoid weird and unwanted overlapping between two different pieces. On the other hand, to add more realism you can add wrinkles and folds to different parts manually if you want to.
Another thing that this Blender addon for cloth allows you to do is to model certain parts. Like a collar for instance, and sew them with the rest of the shirt or whatever ever and it will look great. This might not be the easiest way to do it but the freedom that the addon offers makes it flexible and allows you to be creative.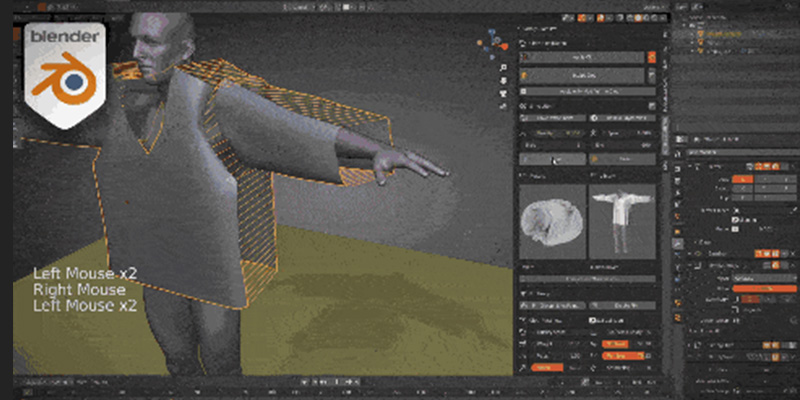 To sum it up, if you need a good set of tools that can help you generate cloth-like never before I can confidently say that Simply Cloth addon will be great and you can depend on it. Because thousands of people are using it already.
Finally, if you want to put your hands on this fantastic addon you can follow this link: https://blendermarket.com/products/simply-cloth?ref=247