Iclone is a real-time animation software that can help artists in many industries to easily produce Animations for video games, visualization, previz, and more.
In this video, we are going to see how this powerful software and Character creator does all that, and the amazing features it has, which allows artists to do their job super fast and easily compared to other 3D packages.
So, we will answer today's question: What is Iclone Used For? at the end.

Creating Video Games

Creating good video games is something that needs a lot of people and many different skills if you are going to do it on your own, not to mention the incredibly long period of time that it will take and the budget required if a group of artists is going to work together on a video game. But with with Iclone and the character creator at the center of it, creating AAA video games for individuals and small development studios is not a dream anymore because people are doing it already.
Like the story of the game developer who created a video game called Bright Memory on his own using Reallusion software and Unreal engine. Instead of creating the characters and doing animation in software such as Maya he used Iclone and character creator to save time and resources by a big margin.
Also using Iclone and character creator a game developer was able to create his own game called The Forgotten City, by cutting the production cost of character creation and animation from half a million dollars to just %1 of that amount of money which made it possible.

Creating Animations

Creating animations and short films is also one of the reasons why people use Iclone and Character Creator. Like creating characters and animations for video games creating animated films is going to need a lot of time, money, and resources but with this software, things are changing for the better and becoming way easier because animators are able to create short films and action sequences in less than a month.

Previz Work

For creating big animation projects or feature films, previz work is very important and needs to be done. Using software such as Iclone and character creator, this process is going to be efficient because you can start working right away without the need for creating, rigging, and animating characters from scratch. Like in the feature film Replicas, starring Keanu Reeves in which the film pre-production team used Iclone and character creator in addition to Reallusion motion capture tools to get the job done.
Now we are going to take a close look at how these tools are allowing artists and game developers to do a job that needs a team of professionals alone and this fast.

Creating Characters
One of the best and fastest character creation software is known as Character Creator. Character Creator 3 is a full character creation solution for designers to easily create, import, and customize stylized or realistic looking character assets for use with iClone in addition to the Popular 3D animation packages like Maya, Blender, and game engines such as Unreal Engine 4, Unity or any other 3D software as well.
It is a time and resources saver if you use it right. It allows artists to create characters easily and intuitively. First of all, using the morphable body shaping tools allows you to customize a character to any size, or shape, whether it be tall, short, fat, slim you name it. You can also change other body features like hair, clothes, and so on. And it works smoothly with other character creation software such as Daz studio by allowing to import certain elements or complete characters to be customized further in the Character Creator.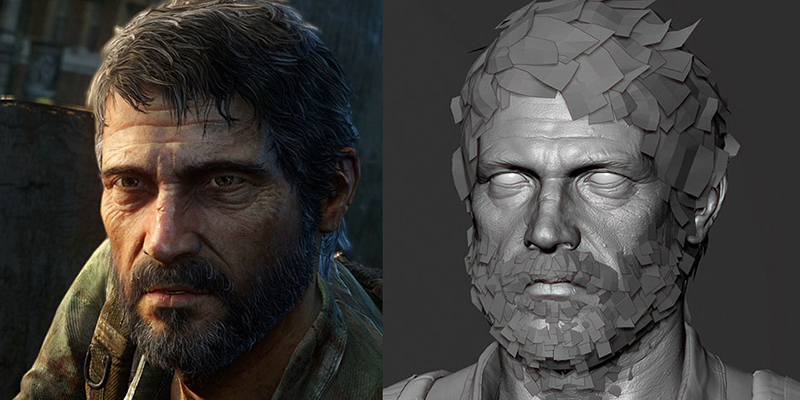 And to provide further flexibility you can actually take your character to sculpting software such as Zbrush to add more details. Also, you can add your custom materials and textures in software such as Substance painter and custom clothes in software such as Marvelous designer to be added to your character inside Character creator. and much more.

Character Animation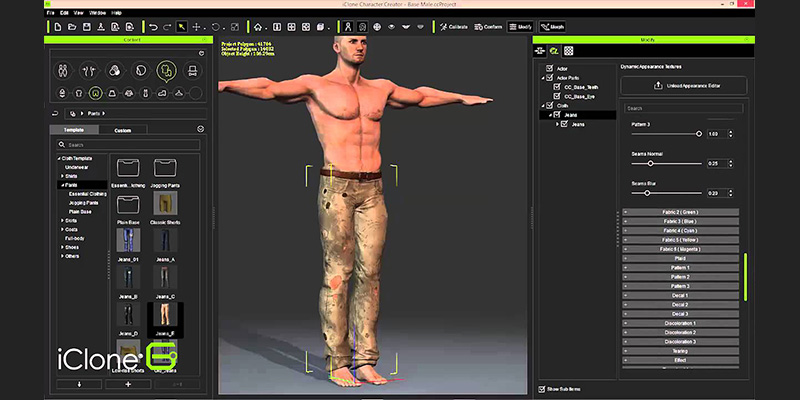 The first thing you will notice about Character animation using Iclone is that it is way faster and easier than using complicated 3d software such as Maya, 3ds Max, or Blender. Because it has straightforward and easy-to-understand tools that can help you create animations that will take days in hours. The great thing is your characters will be automatically rigged for you and the animation is predictable and easily controlled.
You can Freely control body parts with Human IK, and use motion layer editing to instantly fine-tune the characteristics of your animation. Using Iclone you can use a library of ready-to-use animations that range from very simple to complex. you can just through animation at a character and you will see how it is moving accordingly in the timeline in a matter of seconds. You can also control the animation using keyframes like most 3d software if you want to use
certain tools.

Facial Animation
Facial animation using this software makes the process really easy and fast as well. If you want to create a talking character you can use Iclone's facial animations with audio lip-sync that allows you to synchronize automatically the voice of the actor with facial movement and expressions of the character. The number of facial morphs has now increased from 30 to 60, which gives you as an animator a high degree of facial precision for the mouth, cheeks, eyes, and other facial feature animation.
In addition to animating facial expressions using Iclones ready-to-use parameters, you can also use facial motion capture using an iPhone or using Faceware with the help of the Motionlive plugin that we will talk about later.
If you want to enhance facial clips generated from automatic face animation in Iclone or facial mocap with iPhone or Faceware, iClone 7 provides separate tracks to individually edit facial muscles, eye direction, and head rotation. You can gather all that info in a single motion clip and then add further face key adjustments for the unparalleled customizability of your facial animation.
Materials/textures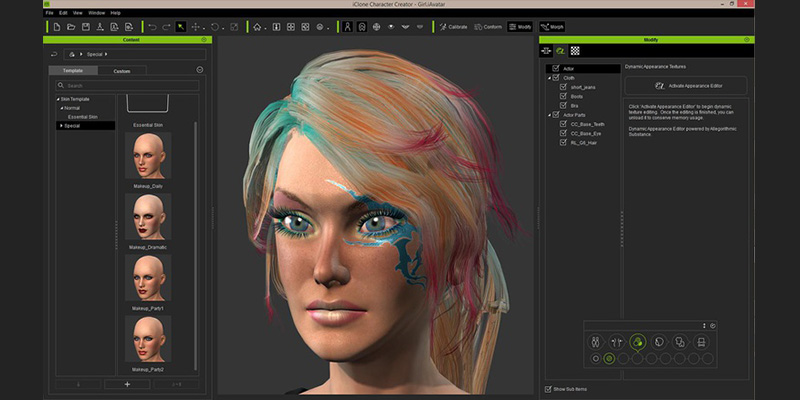 Also what you will find interesting about Iclone when it comes to texturing is its ability to Assign and manage materials via a simplified interface in order to control textures, UV, and multi-channel material settings without the need to code or use nodes. You can achieve high quality and easy customization with PBR dynamic materials that support Substance & material channel mixing. Also what is interesting is the ability to Tesselate and deform geometry via materials to add depth and effects to any objects for a highly detailed appearance while maintaining an efficient scene load.
Iclone is simple to use but has a high degree of parametric control over materials in your scene using Muti-texture channels like what you find in software such as Substance Painter. you can change or modify maps like diffuse, opacity, Normal, specular, reflection, and more…
In addition to that, Iclone has a built-in Substance engine from Allegorithmic that allows artists to alter material look and style, giving you custom control over making existing materials look more natural and realistic. in addition to creating animated effects using the Substance library as well.
Creating Interior and Exterior Scenes
In addition to creating characters and animating them using Iclone, you can also Create interiors or outdoor natural environments by combining props or elements like terrains, skies, water, grass, and trees. You can also Control moving clouds and day-to-night illumination with the interactive Sky Tool.
For example, if you want to create interiors scenes there is a library of ready-to-use interior elements like shelves, floors, stairs, and furniture such as sofas, tables, chairs, and lamps that will allow you to populate interior scenes in a very short period of time.
And when it comes to the exterior or natural scenes there is also a huge collection of modular city building elements from the Reallusion Content Store. You can simply Drag-and-drop construction elements into your scene with the sky, terrain, water, and a broad variety of plant life to achieve different results.
Using Plugins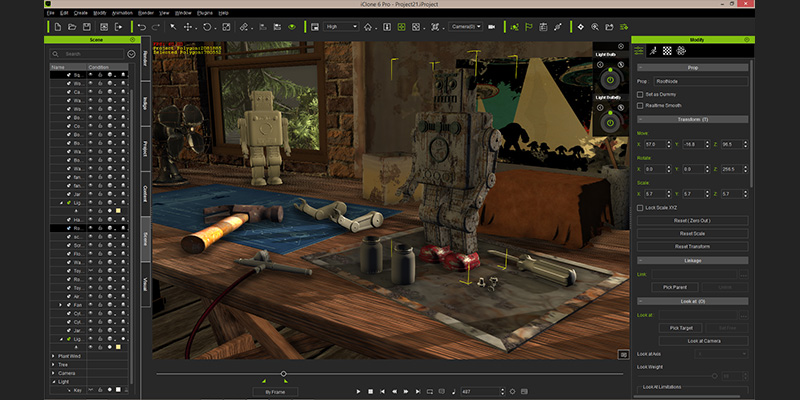 There are a lot of different plugins that can be used with iclone to offer game developers and animators better control and allow them to generate better and faster results.
some of these plugins can be used for connecting Iclone with game engines such as Unreal engine, or other 3D software using Ureal live link and 3Dxchange.
to enhance animation results you can use Curve editor. it is useful for those who want to include animation techniques of other 3d packages such as Maya or Blender in iClone animations.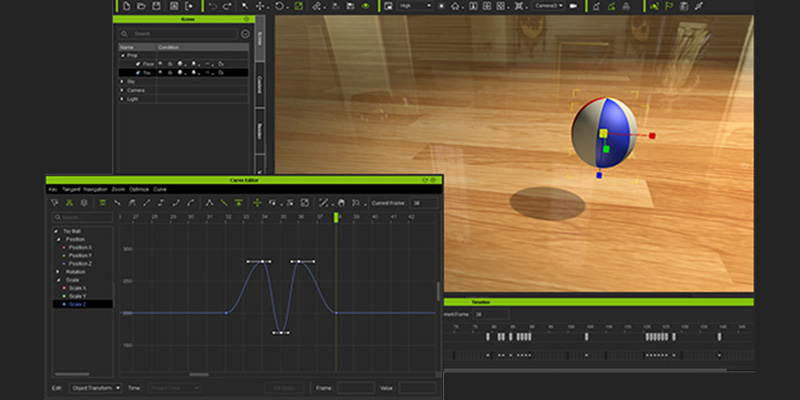 When working with motion capture in Iclone you can use Motion live for capturing face and body movement in addition to the Kinect body mocap plugin as well. For character creation, there is a Character creator that we talked about in addition to the headshot and Avatar toolkit. And to render higher quality animations you can use the Iray render plugin from Nvidia which has been developed and pushed hard by Nvidia in recent years.