For a lot of artists, breaking into the game industry seems very hard. It is true, in fact, but there are a lot of different ways to nail a job that you probably have not thought about before.
Today, we are going to see How to Get into the Game Development Industry, and make an income out of it.
---
1- Get an internship at a video game studio
Having skills that a game studio can use will help you to work as an intern if you are still a student. You can get an internship for different skills like programming, art, sound, and so on.
You don't have to be highly skilled like the professional artists working in a game studio. You don't even have to create a game to get this position because it is a win-win for you and for the studio.
They will get to the cheap workforce to help them finish their game and you will get real experience in the field, which is priceless. Of course, you are not going to work on the same complicated stuff that more experienced artists work on, but they will hand you probably the work that is not that hard and takes a long time to finish to free some of their stuff to work on the more complicated stuff.
---
2- Build your own indie games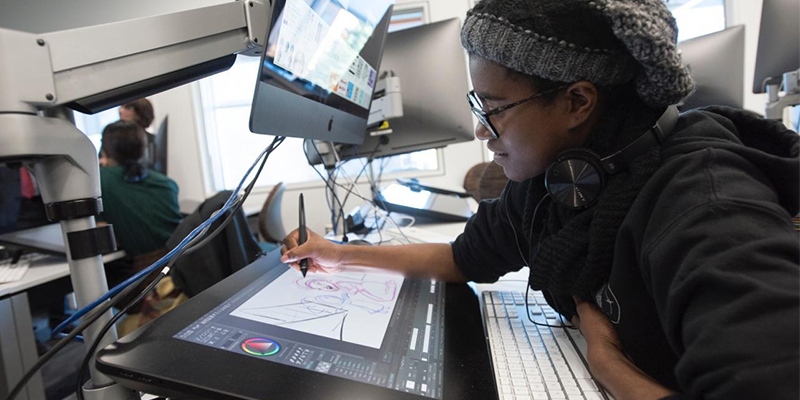 By using this strategy, you will solve the dilemma of needing the experience to work but you need to work in a game studio to get experience in the first place. Making your own indie game is considered a form of experience that game studios can look at and offer you a job based on your skills.
You are not going to lose anything following this method because you are technically in the game industry if you can monetize your game successfully, probably you will start your professional game development studio if you persist long enough, but this is easier said than done of course.
---
3- Post & Show your work
This is a perfect way to get your work seen by game studios, which can help you build industry connections and could even lead to a job offer.
If you are good enough and you believe you can work in a game studio, then you need to stand out from the crowd because game studios are looking for good artists all the time.
Your problem at this point is not technical or artistic skills but obscurity and lack of marketing. The more you show your personal work the luckier you get at capturing the attention of the right people who can offer you a job.
---
4- Get a non-game-dev position at a gaming studio
You can apply for jobs at game studios in non-development roles such as information technology, tools development, or other support staff jobs, because It takes a variety of jobs to operate a successful game studio, and many of those jobs aren't directly involved with making the game.
You can work as a website designer, marketer, or any job of the support staff. This way you are technically working at a game studio but not on the game for the time being, but you are seeing what is going on a daily basis.
You will slowly be able to put your hands on the game and be part of the game development team if you have patience and you are skilled enough.
Smaller game studios don't have as much support staff, so focus on the larger studios and game publishers if you want to pursue this strategy. The bigger the studio, the more support jobs there will be for you to target.
---
5- Become a game tester
A game tester is actually a job in the game industry and it is the easiest because it does not require a degree, special skill or specialized training for that matter.
So, basically, who can play video games and give constructive feedback that game studios are looking for is a candidate that can apply.
Many game testers eventually move into other jobs on the game studio team, so there's always room for new testers to fill in the empty positions.
Get your 14 Free Days of Premium membership on skillshare through the following Link