3d modeling and animation software are an essential part of creative projects like video games, films, and commercials. Today, we are going to talk about two powerful 3d packages which are Cinema 4D and Blender. And we will try to compare them to see what they are capable of in different 3D computer graphics fields.
---
Architectural visualization
Blender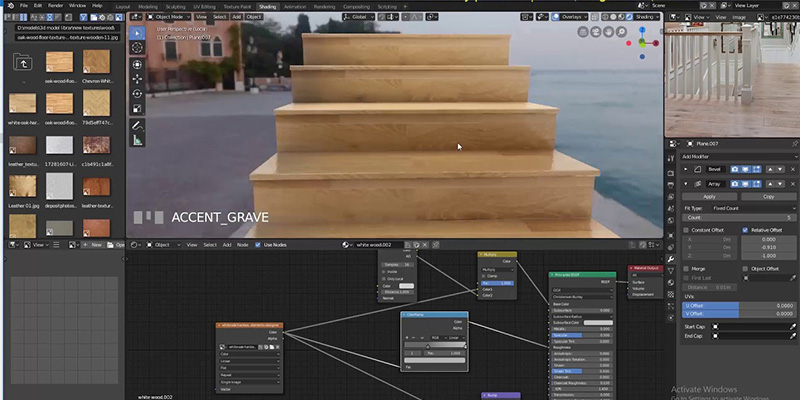 In this field Blender has seen a lot of growth over the years because now it is equipped with a lot of tools that can help architects and designers create and render their interior and exterior scenes using a wide range of modeling, texturing, lighting, and rendering tools. Modeling in architectural visualization is not a problem using Blender because there are a lot of tools and addons that can make this task suitable for beginners and professionals. For example, there are free and paid Modeling addons that can help you build houses and buildings in a matter of hours rather than days. In addition to that, Blender has a great system for adding materials and lighting. And when it comes to rendering, Blender has Two powerful render engines, Cycles for doing final renders and Eevee for real-time rendering.
Cinema 4D
On the other hand, Cinema 4D is also a great 3D package for Architectural visualization. To be honest, this is one of the few areas where it excels. Like Blender, Cinema 4D is Great for modeling and adding materials, lighting, and rendering your interior or exterior scenes. One of the great things about Cinema 4D is its simplicity, and since Architects and designers are not the most artistic people, this software makes sense to them, especially, if they are not familiar with complex 3D packages. And Cinema 4D has support for the most popular third-party addons in this industry whether it be for rendering, modeling, populating sense, adding materials, adding plants and vegetation, and more.
Compared to Blender, Cinema 4D has been popular in this field for a long time, but Blender has grown a lot in the last decade which makes it a fierce competitor in Archviz because a lot of people even professionals are starting to integrate it in their workflow.
---
Simulation/dynamics/VFX
Blender
When it comes to simulation, dynamics, and effects both Blender and Cinema 4D have good tools for creating soft body and rigid body dynamics which is necessary to do a lot of things. But when it comes to simulation of Cloth, liquids, fire, smoke the native tools of Blender are superior to those in cinema 4D because Blender for the longest time relied on its own tools for effects and simulation.
Cinema 4D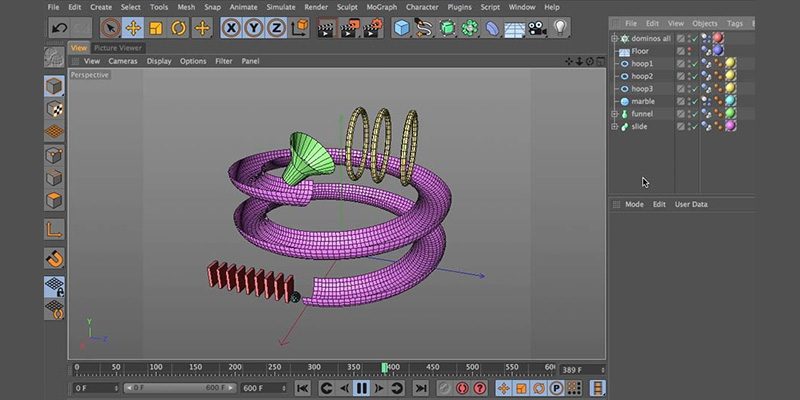 On the other hand, Cinema 4D relies on third-party plugins to do this type of work. Plugins like X particles which is one of the best and most popular. In addition to FumeFx for fire and smoke, and Realflow to name a few.
But as a Blender user, you can also take advantage of the emerging powerful tools and addons for Blender like Flipfuilds which is pushing the boundaries of possibilities even further.
Also, both Blender and Cinema 4D have good motion tracking tools for VFX work that is more suitable for low-budget films.
---
MotionGraphics/advertising
Cinema 4D
For motion graphics work, Cinema 4d is the go-to 3d package, because it has been equipped over the years with many tools and features to cater to this section of the computer graphics industry artists. And this is apparent if we look at how many big-budget movies that need motion graphics were created with the help of this software. Maxon, the developer of Cinema 4D made sure to dominate this section of 3D computer graphics by adding easy-to-understand and user-friendly tools for modeling, animation, simulation, and effects.
Advertising is a big market for studios and artists using Cinema 4d that focus on this type of work. because it is used to produce professional Tv commercials for some of the biggest brands and companies in the world.
Blender
On the other hand, Blender is also a good software for motion graphics because it also has good tools for animation, simulation, and dynamics or anything else needed for motion graphics work. In addition to some nice add-ons that can make the process easier and faster.
Overall, I think that Blender is catching up in terms of motion graphics, especially, in advertising because many people are using it already. And it is impacting this industry already because of a lot of good and powerful tools and features. But, Cinema 4D has been used for this type of work for a longer period of time and has more tools and resources to learn and practice, which makes it more favorable compared to Blender.
---
Character Animation
Cinema 4D
Even though, Cinema 4D is lately being developed further when it comes to rigging and animation by adding better and easier to use tools to make the lives of animators easier it is not that great compared to software such as Blender. We are not saying that Cinema 4D is not good, but Blender has the upper hand in this department according to the experience of many character animators.
Blender
Blender was developed to be a 3d modeling and animation 3D package in the first place. And the Blender animation studio worked on many animated films to showcase its power and develop it further by creating better and more intuitive tools that make achieving those projects even faster and easier.
Overall, Blender has great rigging and animation tools that can pretty much help you animate anything.
---
2D animation
What makes Blender even better for animation is the fact that it has a fully-fledged 2D animation system known as the grease pencil. It can do almost everything related to 2D animation and it can be used to create full animation movies like the movie "I Lost My Body" and the short film "Hero".
The 2D drawing and animation tools in Blender are not limited only to character animation, because it also is used for doing concept art, storyboarding, and 2d motion graphics.
On the other hand, the 2D stuff in cinema 4D are very limited, compared to Blender but there are some toon shading features that help turn something 3D into 2D.
---
3D Modeling/sculpting
Blender
In terms of 3D modeling, Blender has many advantages over many 3D packages, for example, it has a lot of modifiers that can make the process much faster and easier in addition to the wide range of addons that ship with it and give it an enormous boost in terms of what you can do, especially, for architecture and hard surface modeling.
Cinema 4D
Cinema 4D also has good tools for modeling but where Blender completely beats Cinema 4D is when it comes to sculpting because its Sculpting tools are not that advanced compared to those of Blender.
Right now, Blender is one of the best alternatives of Zbrush because it has been pushed so hard to make it a better sculpting software in the last couple of years. Basically, it now has a lot more sculpting features that are similar to what you can find in Zbrush.
---
Rendering
Cinema 4D
When it comes to rendering, there are some built-in renderers for Cinema 4D. Namely, Physical Renderer and Pro-Render. Both are decent enough, but given how the technology has advanced in the last few years they are probably not the best option to stay on top of your game.
Now, Cinema 4D comes with Redshift which was made by Maxon last year, Redshift is one of the Best render engines you will ever use with Cinema 4D because it is a super-fast and efficient render engine. There are also other powerful render engines that can be used with Cinema 4D such as Vray, octane, and Arnold, they are great and can be good for different projects.
Blender
Blender as we said has a very strong real-time render engine known as Eevee in addition to the main render engine Cycles. They are both great if you want to work on any type of project. But if you want to try something else there are third-party render engines such as Radeon Pro render, Octane render, and Vray to name a few.
---
User interface
Cinema 4D
When it comes to the user interface, Cinema 4D has always been know for having a clean interface that can be both intuitive and beginner-friendly. On the other hand, Blender has been known for the longest time for having a user interface that is not very attractive and kept many new artists and professionals away from it.
Blender
But in the 2.8 release that happened a couple of years ago, things changed for the better and the interface became way more attractive and user friendly, which generated or created a new wave of Blender users both beginners and professionals who decided to switch to using Blender.
---
The learning curve
In terms of the difficulty of learning these two software, I would say that based on the experience of many new and experienced artists, Cinema 4D, is one of the easiest 3d software to learn and use. This does not make Blender hard to learn, I would say it is kind of different.
In my personal opinion, I believe that the ease or difficulty of learning something is highly correlated with the willingness to learn and how much time and effort you are going to invest. I mean two different people can find Cinema 4D or Blender hard or easy depending on how bad they want to learn.
If you want to start your journey in the world of 3D, you can do this today, because there are tons of new and old learning resources from youtube tutorials and courses all over the place.
---
Pricing/licensing
This is where Blender Blows every other Major 3D package out of the water because it is completely free and open source. This means that you get all these amazing tools and features for free, no questions asked.
On the other hand, Cinema 4D is not free but it is the most affordable among software such as 3ds Max, Maya, or Houdini.