2D animation is a great way to create intricate, interesting stories that will connect with your audience. Motion graphics are even trendier now more than ever, and there's no shortage of software that will allow you to create them yourself. But that's exactly the problem: "abundance". Which one should you pick? Free or Premium?
How do 2D motion graphics software differ from the rest?
2D motion graphics software can be used by artists who want to create 2Dimensional motion, as opposed to 3D motion graphics software (like Cinema 4D, Blender, 3Ds Max,… etc.)
We talked about motion graphics software in general before. However, if you're looking for the best 2D motion graphics software specifically, we have a collection of the top free and paid options that will be able to suit any needs.
1. Adobe After Effects
After Effects is an industry standard for VFX and compositing. Along with its powerful capabilities for compositing and visual effects, it allows you to create motion graphics, and it even has a unique approach that merges many techniques into one complex behemoth of a software. Now, it's true that for the first time using AE, the interface will not be very clear: it will require you to dedicate enough time to fully understand the working principle. But we can definitely tell you that it's a hell of a process, it will be worth it.
You can use compositions to create animated logos based on a set of layers that you created in other software (hence, the advantage of graphic design software that we mentioned earlier).
Combining keyframes, background effects and anchor points, you can bring the simplest and most organic shapes to life.
For special effect animation, AE empowers you to work in 3D space where you can use Camera Tracker, manipulate footage and add advanced VFX such as snowfall, explosions, etc.
For rotoscoping, AE comes with advanced capabilities for this one; it works as a green screen without having any green screen. You can apply it to anything from objects, windows or heads. The rotoscope tool will automatically track the object you're working on during the footage.
Text can be a very crucial element for many kinds of animation, and Ae displays a huge advantage to add motion to it. Some of the most noteworthy ones are the possibility to manipulate text in a 3D environment, animate strokes by using brushes and repositioning the keyframe, and animating vector line patterns. Not to mention that there's an abundance of text animation plugins dedicated especially for After Effects (and we talked about them before on this channel).
Furthermore, you can copy and paste the settings to be used from one object to another, which will save you tons of times. Another time saver feature is when working with GIFs, AE provides you with the GIF Gun tool that allows you to render and export GIFs with one single click.
Finally, one powerful feature that Ae will provide you with is expressions. Instead of drowning in a huge pile of keyframes, you can use expressions to build and link animations of high complexity without losing your sanity.
2. Blender
You certainly know Blender as a 3D package, and it might even sound strange to think of making 2D motion graphics in a 3D environment. However, Blender offers you the possibility to do just that in many ways:
You can use the Grease Pencil object to create your scene or assets. It's a 2D drawing object that comes integrated in the 3D package itself, so it doesn't require any separate install.
You can also import your assets as SVG files, and use the abundance of Grease Pencil features to create your animated graphics.
You have all the necessary tools to perform any kind of animation you're aiming for, whether it be traditional, frame-by-frame or cut-out animation. It grants you full control over the objects, so you can change the size, orientation, position, and so on. The onion-skin feature will make things a lot smoother and easier by helping you display multiple frames in one single scene. Not to mention that you can use the inherited animations to your advantage, by building layer-parenting relations between objects.
3. Adobe Animate
With Adobe Animate you can create professional-quality motion graphics animations even as a beginner, because the software is known to have one of the finest learning curves. It has an abundance of features, and we'll go over a few of them to give you an idea.
Export format: First, it has improved the export process for animations to make it easier for you, whether your animation is meant for desktop or mobile device viewing purposes.
Vector brushes: With the new update in Animate, you can now create vector brushes. This is kind of similar to what you find on Adobe Illustrator, with pressure and tilt functionalities for drawing lines or strokes using a pen/stylus.
Font: The software also includes the integration of Typekit, where you can get countless premium web fonts.
 4. MOHO PRO
Moho is a 2D animation software that provides professional, powerful, and easy-to-use tools. It has been designed so you can create your scenes directly in Moho, or import graphics from Photoshop keeping their layer structure intact with ease of access at any time through an intuitive interface.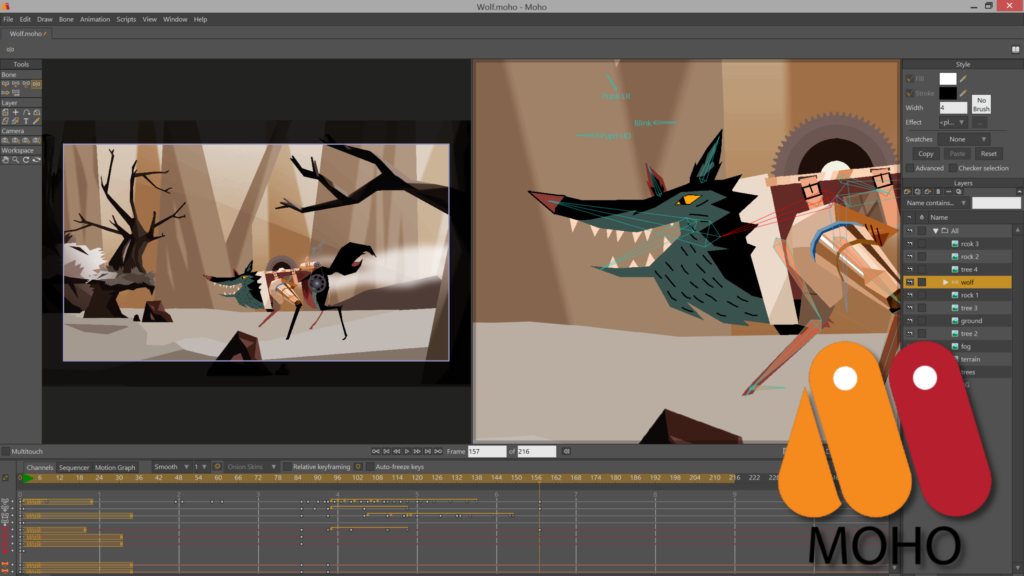 It offers one of the most powerful, fast and intuitive 2D rigging systems.
The Drawing tools are optimized for animation: since there's a unique vector system that keeps shapes consistent while they move.
You can automate your animation with Physics, Particles and Dynamics: just hit play, and see how the objects and characters bounce and react to each other's movement.
MOHO also offers you the possibility to add life to your scenes with the new Wind dynamics!
And finally, you can take full control of your animation with the Timeline, Graph mode, and multiple interpolation modes.
5. Adobe Illustrator
Illustrator is also the industry-standard software for vector graphic design, launched by Adobe's Creative Cloud. It allows you to create almost anything from logos, charts, drawings to icons and illustrations. It has pretty much the same interface that you have been familiar with using the rest of the Adobe Suite.
The main perk of the vector technology is that you can scale and resize your design without even worrying about any quality loss. It also provides you with a rich toolset, making it perfect for sketching and drawing. It has brushes for painting, shapes, pen tools, path tools and more.
Again, although it's not dedicated for motion graphics, the main reason why we're mentioning this software on the list is similar to the one related to Photoshop. You can create your own graphics as a pre-stage for your motion work, with the advantage of the clean-edged HD quality that vector graphics software offers you. Not to mention the high compatibility and integration with Adobe products and other software, like the mammoth of compositing and VFX "Adobe After Effects" (which we will talk about later on).
6. Adobe Photoshop
Photoshop has been developed over the years to become the industry standard for photo editing (and even graphic design). It has a great variety of tools, features and capabilities that cater to a wide range of professionals. The first one that's very noteworthy is the powerful layering system, which will allow you to create your staging assets in a more organized and efficient workflow.
It allows you to download brushes in the workspace besides the ability to create your own brushes and export them. Selection tool, cropping tool, pen tool, mirror image, flipping, rotating, masks, clone stamp and shapes are all tools within both applications.
The reason why we included this software on the list although it's not specifically dedicated for motion graphics is simple: you will heavily rely on it if you want to create and animate your own assets. It does have a timeline and animation features included, but that's not what sparked our interest.
7. NATRON
NATRON is a free and open-source software that was created especially for motion graphics and VFX artists. Initially funded by Inria, it's backed up by a strong and dedicated community that is continuously improving the core software for Mac, Windows and Linux users. 
It has a very intuitive user interface that will make you feel at home right away, even if you're coming from other software (especially Nuke, since they're both node-based, unlike After Effects that is layer-based). It's the performance that I really love: although you still need a powerful machine to use it properly, you don't have to wait for your renderings to complete. It's all thanks to the multi-threaded rendering pipeline that will ensure real-time feedback on each of your actions.
It has an abundance of other useful features like keying tools, rotoscoping capabilities and tracking tools. Not to mention that it's compatible with many free OpenFX plugins, like OpenCV, Arena and Misc. In addition to a great integration with many commercial plugins, like Ignite by HitFilm, Universe by RedGiant and Furnace by The Foundry.