In the world of 3d computer graphics, there is an infinite number of 3d models and basic geometry and forms that everyone is familiar with including a teapot that seems very ordinary on the surface but actually is more important than you think.
The Utah teapot was basically used for testing rendering software and its features, in addition to simulations and dynamics.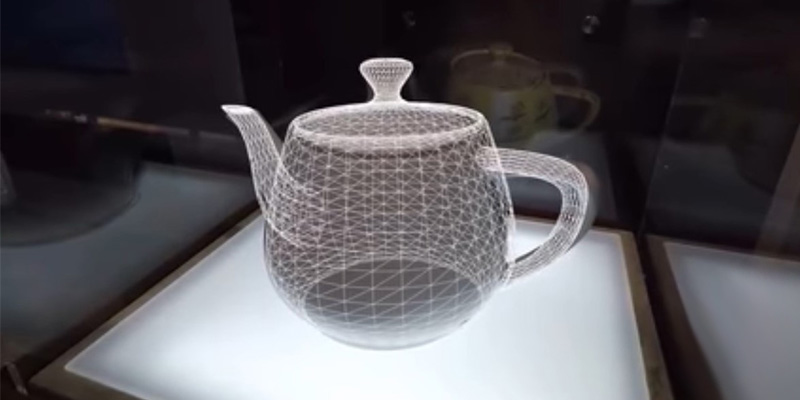 This teapot became so famous to the extent that it became part of the primitive geometry in software such as 3ds Max, Autocad, Houdini, Lightwave, and more. 
It became so popular to the extent that VFX artists and Animation studios have been including it in their animation projects as an easter egg for those who pay attention and know its history.
For example, it appeared in one episode of The Simpsons, also one of the first and most popular animation movies Toy Story. in addition to that, it was used old windows PC screensaver and many other films and games over the years. 
First Appearance of The Utah Teapot
The teapot model was created in 1975 by early computer graphics researcher Martin Newell, a member of the pioneering graphics program at the University of Utah. It was one of the first to be modeled using bézier curves rather than precisely measured.
Newell had some novel ideas for algorithms that could realistically display 3D shapes—rendering complex effects like shadows, reflective textures, or rotations that reveal obscured surfaces.
But, he struggled to find a digitized object worthy of his methods. Objects that were typically used for simulating reflections, like a chess pawn, a donut, and an urn, were too simple.
For his work, Newell needed a simple mathematical model of a familiar object. His wife, Sandra Newell, suggested modeling their tea service since they were sitting down for tea at the time. He sketched the teapot free-hand using graph paper and a pencil.
Following that, he went back to the computer laboratory and edited bézier control points by hand. It was a perfect choice: The curves, handle, lid, and spout of the teapot all conspired to make it an ideal object for graphical experiments. Unlike other objects, the teapot could, for instance, cast a shadow on itself in several places. 
The new model was particularly appealing to Newell's colleague, Jim Blinn. One day, demonstrating how his software could adjust an object's height, Blinn flattened the teapot a bit and decided he liked the look of that version better. The distinctive Utah teapot was born.
Newell made the mathematical data that described the teapot's geometry publicly available, and soon other researchers began to use the same data for their computer graphics experiments. These researchers needed something with roughly the same characteristics that Newell had, and using the teapot data meant they did not have to create geometric data for some other object.
Although technical progress has meant that the rendering of the teapot is no longer the challenge it was in 1975, the teapot continued to be used as a reference object for increasingly advanced graphics techniques.
Over the following decades, editions of computer graphics journals regularly featured versions of the teapot: faceted or smooth-shaded, wireframe, bumpy, translucent, refractive, even leopard-skin and furry teapots were created.
Having no surface to represent its base, the original teapot model was not intended to be seen from below. The real-life version of the teapot is ~33% taller than the computer model.
Jim Blinn stated that he scaled the model on the vertical axis during a demo in the lab to demonstrate that they could manipulate it. They preferred the appearance of this new version and decided to save the file out of that preference.
The original, physical teapot was purchased from ZCMI in 1974. It was donated to the Boston Computer Museum in 1984, where it was on display until 1990.
It now resides in the ephemera collection at the Computer History Museum in Mountain View, California where it is cataloged as "Teapot used for Computer Graphics rendering".
Versions of the teapot are still sold today in Germany by the original makers of the teapot.
Through 3D printing, the Utah Teapot has come full circle from being a computer model based on an actual teapot to being an actual teapot based on the computer model.
It is widely available in many renderings in different materials from small plastic knick-knacks to a fully functional ceramic teapot. It is sometimes intentionally rendered as a low poly object to celebrate its origin as a computer model.
In 2009, a Belgian design studio, Unfold, 3D printed the Utah Teapot in ceramic with the objective of returning the iconographic teapot to its roots as a piece of functional dishware while showing its status as an icon of the digital world.
Newell has jokingly lamented that, despite all his algorithmic innovations, he'll be remembered primarily for "that damned teapot." But as much as computer scientists try to prove their chops by inventing clever algorithms, testbeds for experimentation often leave a bigger mark. Newell essentially designed the model organism of computer graphics: to graphics researchers as lab mice are to biologists.
For the rest of us the humble teapot serves as a reminder that, in the right hands, something simple can become an icon of creativity and hidden potential.
The original artifact now resides in a place of honor at the Computer History Museum in Mountain View, California. Its utterly pedestrian form seems almost out of place among the abacuses, mainframes, game controllers, and other computing gadgetry that dominate most of the exhibits.